Our Eating for Life Guide
•
Posted on October 13 2021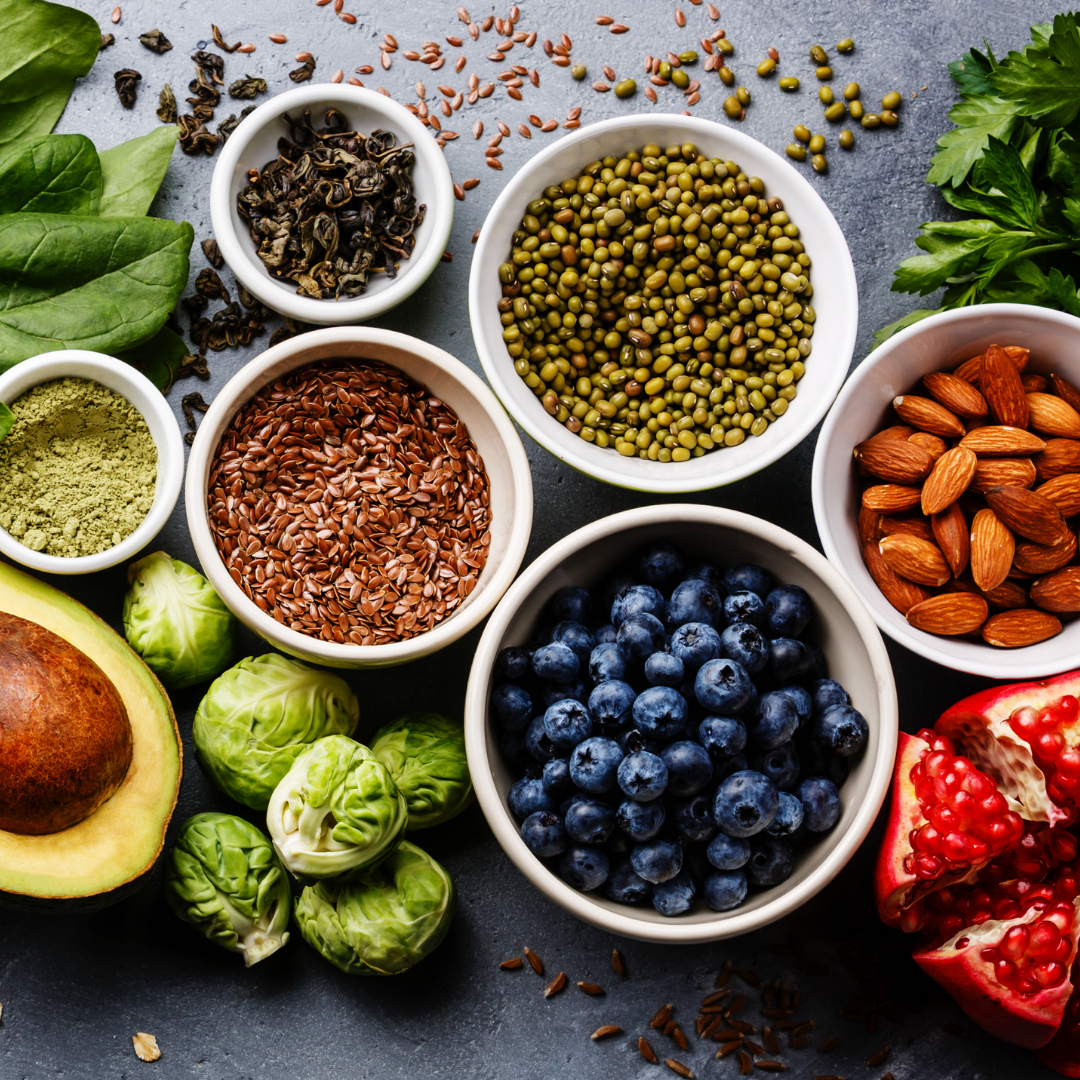 With the thousands of choices we make per day we believe when it comes to healthy eating it should be simple and easy. We have simplified the complex world of nutrition into the following tips to Eat for Life...
Eat This!
Organic – as much as possible: always with Proteins and try your best with Grains, Fruits & Veggies.  

Free Range Organic Eggs – always!

9 cups of veggies and fruit (3 cups greens, 3 cups Sulphur-rich, 3 cups colors)




Sulphur Rich = Onion, Broccoli, Garlic, etc.

9-21 ounces of high quality pasture-raised protein each day; include organ meat.

16 oz high Omega-3 Fish per week – wild caught

Seaweed and algae – daily if possible, but as often as you can

Lacto-fermented foods – daily*

Soaked nuts and seeds 
 Always Do This!
Eat 5-7 meals per day.  Eat every 2.5 hours!

Shakes count as a meal.

Shakes do not count as a meal post workout.  These are FREE calories! 

Always eat or drink Breakfast within one hour of awakening, unless you exercise

If you exercise soon after rising, just eat ½ banana or your favorite fruit.
Drink your Lemon Water, coffee or tea.

Always drink a Recovery Shake within 30 minutes of a workout to maximize recovery.

Feel free to add ingredients to alter the Macro ratio and Calorie load to match your workout.  Don't forget to blend! 

Functional Training – add juice, fruit, nut butters, mct oil.

Cardio Training – add juice, fruit, veggies.
Weight Training – add milk, fruit, nut butters, mct oil.
Mind Body – add water or nut milks, fruit, veggies.
Walking – add water or nut milks, fruit, veggies.

Start eating whole foods one hour later after your Recovery Shake

Always eat or drink a high protein, low carb bedtime snack just before bed.
Always plan ahead for each day and when traveling.

Pack your bag with Snacks from the Quick Grab & Go Snack Ideas Guide.

During your

30-Day Detox & Reboot

phase, always log your foods.

This will help you understand portion sizes and caloric content.
 Limit These!
Limit Sweeteners to one teaspoon/day – must be Organic.

Eat only Honey, Maple Syrup, Molasses, Sorghum, Stevia, Raw Evaporated Cane. 

Limit gluten-free grain to one serving per day.  Be sure it's Organic.
No No No!
No Artificial Sweeteners – ever! 

These include: Sucralose, Aspartame, Saccharin, and any Sweeteners that end in …ose. 
Eat only Honey, Maple Syrup, Molasses, Sorghum, Stevia, Raw Evaporated Cane. 

No Vegetable Oils – ever! 

Vegetable Oils are hidden in many snack foods – pretzels, chips, etc.

Use only, Olive Oil, Coconut Oil and Avocado Oil.

No Microwaving – ever!

It takes a few short minutes to heat a pan.  

Do not use Teflon or Aluminum.
Things You May Not Know
The quality of the fuel you consume has a direct impact on every bodily function.

You are what your food eats!  

Eating healthy snacks in between meals could make your: Weight Stable, Mind Sharper, Skin Clearer, Energy Soar!

Grazing is considered every 2.5 hours. 

Never eat less than 1600 calories a day.
Review your Food Log each Evening and make sure your Macros add up to your Goals.

Take this opportunity to have one last meal to balance your day

Example – If you are 15 grams short on Protein, just brew a Bone Broth.  You may reduce from 1 scoop to ¾ scoop to net out at 15 grams.

Never shop on an empty stomach.
When dining out, start with a cup of Broth. 
Eat only portion amounts assigned at each meal.  
If constipated, use flaxseed or chia seed as needed for soft bowel movements daily.
Quick Grab & Go Snacks
Shakes – Just put two scoops in a Ziplock and take on-the-go!  Add to Almond milk, yogurt, kombucha, shake and drink.

Parfaits – add to Coconut, cashew or Goat Yogurt.  Add Blueberries and nuts.

swiig Energy Bites

6 Grain Oats or Oatmeal - Pre-cook for the week.  Add spices to taste. 

Celery (2-3) and two tablespoons of Almond or Peanut Butter.  
Be sure to measure your Nut Butter and use only this much.*
Veggie Chips and Hummus
Sweet Potato Spears (4) and Jerky
Hard Boiled Egg and Yogurt
Cottage Cheese (1/2 cup), Blueberries and Almond slices
Fruit in season and handful of swiig Organic Deluxe Trail Mix
Sliced Apple with two tablespoons of Peanut or Almond Butter
Seasonal Fruit and swiig Organic Deluxe Trail Mix
Amy's soup (Veggie Lentil) with canned Tuna.  Half of each.  Save for second meal. 
Brown Rice Cakes (2) with two tablespoons of Almond, Cashew Butter or Hummus 
Grapefruit and Pumpkin Seeds
Parfait - Fruit, Coconut, Goat or Cashew Yogurt, Protein, Granola

Whole Grain Crackers with Almond

or Goat Cheese

Whole Grain Pita with Natural Peanut Butter & Jelly
 Quick Food Substitutions
Coffee:

Techeeno Coffee, Detox Tea, Lemon Water

Alcohol:

 Kombucha, Lemon Water

Baking Powder: Lemon Juice
Oils: Applesauce

Fried:

 Coat with Quinoa Flour and Fry in Coconut Oil or Bake

Cheese

: Almond Cheese.  For toppings use hummus or avocado instead.

Milk

: Almond, Cashew, and Coconut milk

Soy Milks

: Nut Milks

Soy Sauce

: Coconut Aminos

Sweetener

: Honey, Maple Syrup, Dates, Applesauce, or Coconut Sugar

Tofu/Tempeh

: Black, Pinto, or Garbanzo Beans 

Yogurt:

 Almond or Coconut Yogurt 

*Fermented foods are foods that have been through a process of lacto-fermentation in which natural bacteria feed on the sugar and starch in the food creating lactic acid. This process preserves the food, and creates beneficial enzymes, b-vitamins, Omega-3 fatty acids, and various strains of probiotics.
These tips pair great with our Eating for Life Kits featuring our signature meal
replacements SQWARE MEALS and swiig Complete Meal Bars. You can buy the kit (whey or plant) and follow the recommendations above to start feeling your best right away.
However, if you have been feeling tired, off-kilter, gained a little weight, or just want to make a positive change, you probably need some place to start on your path back to health, wellness, and total fitness. You just found a smart first step on that journey. We have developed a 30 Day Detox, Reboot and Transformation which takes all of these principles and weaves them into a complete plan with meal ideas, recipes, shopping lists, and more inspirational education plus a new community board to connect you with others looking to feel their best! Learn more about the Reboot!